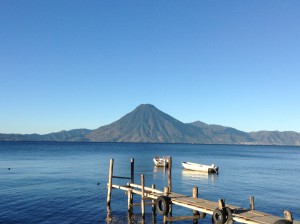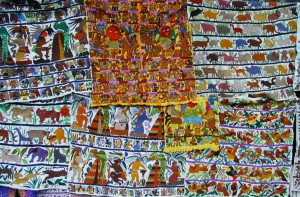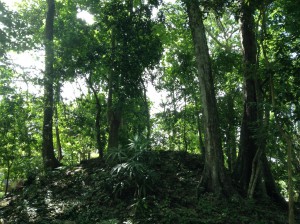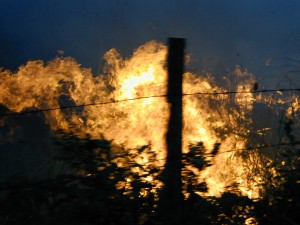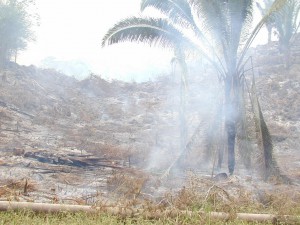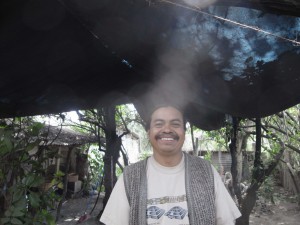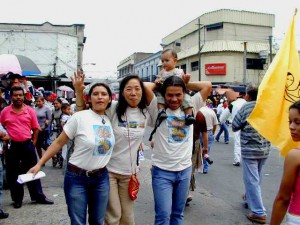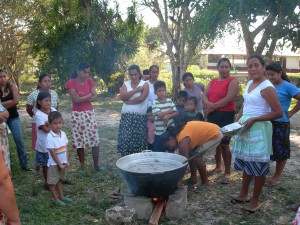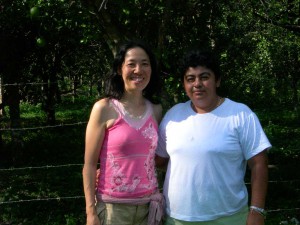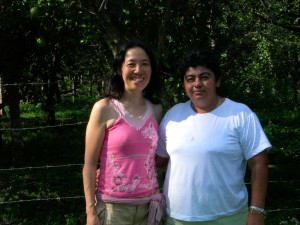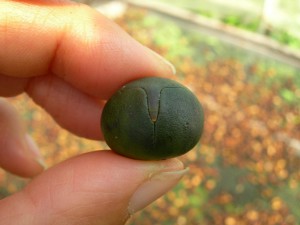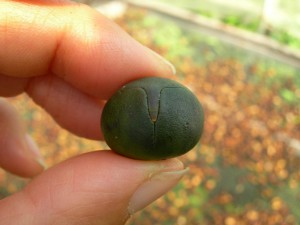 Miho Ota as a representative of Guatemaya was on the way of her journey in 1991.
Going around U.S., Latin America, Central America, and then to Guatemala.
Crossing over the border, the air changed and it was very comfortable, she spent all remaining time of her journey in Guatemala.
She has fallen love with the air , ground, mountains, people and everything in Guatemala.
Fabric patterns on costumes of Mayan native inhavitant are different between in each village, and it was colorful and wonderful.
Coming to a village, she learned languages and textile fabrics.
In that time, she found herself has never known.
She came to frequent Guatemala after going back to Japan, and she felt coming back to like a her hometown in each time.
She came to think that she lives for what and also started to think if there is anything she can do for the Earth while coming and going between Guatemala and Japan.
About over 10 years since she started to frequent to Guatemala, she met primitive forests lasting from ancient Maya.
She got into a mood to want to do a work saving this forest.
It was a moment to connect with forests.
She went back to Japan and she established Tierra madre project(*) as NGO by herself.
*It means Mother earth.
Proposing what we can do for saving Guatemalan forests, mainly she was in an activity of speeches.
After that she came to be busy, when going to Guatemala after a while, Mayan forests burned here and there.
It wasn't wildfire, but it was burned artificially.
In order to make farms to feed cow for meat for export, it was fire to burn forests.
It was extremely shocked for her as she has never felt.
I was tough and heavy for her.
Though she decided to save forests, forests were burned out one after another in front of her.
For meat we eat, for meat Guatemalan people never eat.
Connecting the farms with us in Japan, we take part with that.
She felt hopeless when thinking about how to do.
She couldn't have done anything for a while. She didn't know what to do.
Going to a church in Guatemala, she had prayed that please tell me what she can do everyday.
She felt what she watched burned forests meant to show her truth of forests.
Because, she decided to start from telling what people don't know.
She met a male shaman in a natural flow at about the same time.
She was going to receive his ceremony. It was for only her.
She started to cry feeling something at the minute she went into the place.
She was asked what she wants to tell fire in the fire ceremony, she said that she wants to save Mayan forests and how to do.
She was crying all the time anyway. She together had a nostalgic feel with words told by the sharman, she had a sense occuring something deep inside of her soul.
Going back to hotel still being staggered, when she looked back what was occurring inside, unknown words came up inside one after another, the voice gradually came to be loud and it changed to a song in time.
Through the ceremony, connecting with the ground of Maya, Maya spirit came out from deep inside of her and she finally found that there is a Maya spirit inside of her.
The sharman also said that Miho(as she) deeply connect with Mayan spirit.
It was one or two weeks after she saw that Maya forest was burning.
Now she who was born as a Japanese do what she can to save Mayan forests.
It was too big, but she could prepare herself for doing. She was strongly encouraged.
She struggled to think desperately what she concretely do and if it can save Mayan forests.
Eventually, some ideas came out on her such illustrating what happens in forests in Guatemala and making T shirts with it. And, she thought that she starts this project from telling people. Then those were "No hamburger T shirt" or "What we can T shirt" after that.
We sold them in Guatemala and Japan when we had speeches.
In the meanwhile, she had a strong emotion that wanted to directly connect with people in local places more and she thought if there is something the local people can live together with forests.
In that time, hearing that women do something with ramón nuts in a village near the forest she frequented well, then she went there.
Women were manually processing ramón nuts picking them up.
She met a thing that is the one at last.
She thought that we can save the forests and women with using this nut and spreading it.
When she asked them what to do for them, they said that they process ramón nuts but they want us to sell them as they don't have a market to sell.
She was really excited with it since she had known about ramón nuts.
She got very excited and felt delight crying deep inside of her.
From here, everything of Maya nuts started.